We can also provide free emergency eye test appointments under the WECS (Welsh Eye Care Scheme) and PEARS (Primary Eyecare Acute Referral System) schemes. For more details, please get in touch with Parish Opticians today!
Serviced Areas
Contact Details
Business Representative
Products & Services
Eye Tests
Many eye problems have no symptoms at first, so booking and going to regular eye test appointments means that any problems that might be affecting your eyes can be spotted early and treated before any permanent, long-lasting damage is done.
All our professional staff at Parish Opticians have expertise, experience, advanced equipment and - most importantly of all - TIME. In other words, our optometrists are not only very skilled at what they do, but also very patient - many of our patients have told us that they appreciate not feeling rushed during their eye test appointments.
---
Frames
Parish Opticians have an extensive range of quality frames kept in stock to suit everyone's tastes needs and budget, all frames come with a two year guarantee and a 30 day satisfaction guarantee (if you decide they are not the glasses for you, for any reason, bring them back and exchange them) .
---
Lenses
All our glasses at Parish Opticians are fitted with precision branded lenses by Essilor, NIKON, Hoya and Zeiss, giving you a guarantee of quality. Our superior coated lenses are crystal clear, easy-clean and are the most scratch resistant lenses available in the world. In fact if you scratch them within two years of buying them we will replace them free of charge - guaranteed.
I would recommend this business
My wife and I needed to see an optician and a friend recommended Parish Opticians in nearby Birchgrove. Both of them were emergency appointments, so we managed to get it sorted through the PEARS scheme. I saw Richard (the owner), who is very friendly, while my wife saw one of the other opticians at the practice. We were both really happy with the process and especially the fact that it was free (thanks to PEARS). Couldn't fault it. I'd definitely recommend them.
| | | |
| --- | --- | --- |
| Value for money | | |
| Service & support | | |
| Quality | | |
| Location | | |
| Overall rating | | Excellent |
Customer Testimonials
I have been a patient of Richards for a number of years, and am always delighted by his support and advice and particularly his attention to detail. He also has a great team working with him who are a credit to the practice. His business is a welcome antidote the impersonal and ubiquitous service provided by so many high street opticians these days. I whole heartedly recommend him.
---
Really professional but friendly. They were the only opticians who could really solve my contact lens needs. They persevered and made me feel very comfortable and well looked after. I later bought a pair of glasses from them and again the whole team seemed to be involved in helping me choose the most appropriate pair for me. They were really quick getting the glasses made to my specification and great value too. Such nice people I will be back there for sure.
---
I always receive a warm friendly personal service at Parish Opticians, impressive equipment for monitoring eye health which I found very re-assuring, great attention to detail ensuring my contact lens prescription continues to be perfect. excellent selection of frames in stock and good selection of designer sunglasses.
---
I have never been disappointed with the service received at Parish Opticians. From the reception staff and technicians through to the Opticians, the service is excellent. They have a wide range of frames available as well as contact lenses - always the latest styles at competitive prices. I can highly recommend.
---
One of the nicest businesses I have the pleasure in being a regular customer of. Nothing is too much trouble for them and their staff are always polite and helpful. It's a credit to the owner that such a high standard of service has been achieved and personally I wouldn't go anywhere else .Thankyou for your brilliant service over the years kind regards Martin at Heathwood carpets
Photo Book
Social Activity
Don't forget to keep an eye on our Offers page, including buy-one-get-one-free offers, money-off offers & more! https://t.co/PxFAeYDbls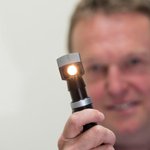 Find out more about how we do eye tests at Parish Opticians: https://t.co/WEyqj7LEx7 https://t.co/Z7klVGvjND
Happy Holidays & a Happy New Year from all of us at Parish Opticians!
Nearest Businesses